As professional arborists called to tackle tree problems large and small, we've noticed something: most of the issues that we encounter stem from the wrong tree being in the wrong place.
Large root systems of trees planted too close to sidewalks are causing the sidewalks to buckle. Trees with large canopies are brushing up against the side of a house, damaging the siding. Berries are making a mess, pollen is covering cars, and trees are constantly being over-pruned because they don't actually fit in the space in which they were planted.
This hurts our tree-loving hearts.
Trees should last for decades, some for generations. Each type of tree is unique and has its own set of qualities, needs, and benefits.
So to help avoid this issue in the future, we've put together this guide to help you ensure that you are planting the RIGHT tree in the RIGHT place.
THE BAD NEWS – AND THE GOOD
We'll tell you the bad news first – just because you love a certain kind of tree, doesn't mean you should plant it. There. We said it.
But the good news is that we're sure you'll find one that will perfectly fit the space where you want to plant. You just need to figure a few things out first. And there are a lot of varieties of trees to choose from!
HELPING YOU NARROW IT DOWN
Check out the tips below to help you decide on the right tree (or trees!) for you.
USDA Plant Hardiness Zone
If a tree won't grow in your zone, don't plant it. It won't survive.
In our area, we range from Zone 6b (where temperatures can be expected to get down to 0 to -5F during the winter) to Zone 5b (down to -10 to -15F). You can check this interactive map to see your exact hardiness zone.
Size, Growth Rate, and Location
How tall can the tree get? How wide? That tiny tree in a nursery might someday reach 100 feet tall. Understand the mature size of a tree, including how wide the canopy (the leaves and branches) will spread. Then ensure that it will work in your chosen location, with no buildings, roadways, electrical lines, fences, or other objects nearby.
Sometimes trees need to be aggressively pruned because they are blocking a view. Ensure that the newly-planted tree won't block windows, stop signs, street lights, or other things that need to be easily viewed for safety reasons.
Will it be near a road, driveway, or sidewalk? Look for a tree that is salt-tolerant (because of road salt spray and runoff) and whose roots won't disturb the walkways.
Think of root placement as well as what the canopy might touch and/or block. Roots extend further than the canopy – up to twice as far as the leaves might reach.
Remember that a fast growing tree is often one that has a shorter life span, whereas a slow growing tree, if well cared for, can last for many years. This is often why the larger trees are more sturdy.
Are you in a particularly urban environment? Some trees can't stand up to urban pollution and should not be planted there.
Does it matter if it drops a lot of twigs, berries, pollen, leaves, etc? If you plan on parking your car underneath, if you have a patio or deck nearby, or if you don't want to be constantly sweeping or raking, keep this in mind.
If it has thorns or prickly branches, ensure that it won't be in a location where people are brushing up against it.
Uses
What will the tree be used for? Shade? Decoration? Noise reduction? Do you want something edible, such as a fruit tree? Do you need it to act as a wind barrier? Think of this when picking out your tree.
Environment
Be honest about how much sunlight the area gets, and choose a tree that matches that. For example, four hours of filtered sunlight in the morning is not "full sun."
There's nothing natural about the highly disturbed soils found in urban and suburban areas. The soils are more compacted, more alkaline, lower in fertility, lacking in organic matter, and have a different composition of soil organisms than would be found in a tree's natural habitat. Suburban and urban trees are also isolated from other trees and instead are surrounded by a sea of over-fertilized turfgrass.
So, before you buy a tree, it's a good idea to take a soil sample in the area where you plan to plant your tree.
Different trees have different soil needs, so use the information you gather from your soil analysis to determine what tree would work best.
For other things to consider when choosing a tree, check out this guide by Trees Are Good or this one about tree selection and placement.
WHAT DID YOU DISCOVER?
After taking into consideration all of the above points, what did you find out? Maybe you decided that a small, flowering tree would suit your purposes as you want something beautiful and fragrant, but that won't reach the powerlines. Perhaps you concluded that a row of evergreen trees would be perfect for dulling some of the road noise and for blocking the harsh winter winds.
As you narrow down your options, feel free to contact us to schedule a professional consultation. We can help you understand the specific limitations and benefits of your property and can suggest trees that will most likely thrive there.
You can also contact us about our professional tree planting services. We provide resources on this website to help you plant a tree yourself (see below), but many people prefer to have it done by arborists like Independent Tree.
Note that trees can be planted in spring or fall, but not during the summer.
Resources to Help You Choose & Plant a Tree
All of the resources below can be found on our website and are specific to our area of Northeast Ohio.
Benefits of evergreen trees in your landscape 
Contact Independent Tree
Independent Tree offers tree planting services in the spring and fall. If you'd like to add new trees to your property, contact us to schedule an appointment.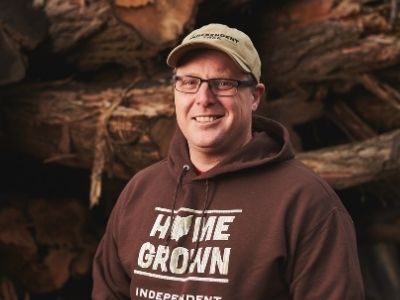 STAY IN THE LOOP
WITH OUR
LATEST UPDATES