Tree Removal & Stump Grinding
When the time comes to cut down a tree, whether it's dying or in a hazardous position, you'll want to hire experienced tree care professionals who can do the job safely and efficiently.
Call us today at 440-564-1374!
Request a Free Quote
Give us a call at 440-564-1374 or click the button below to set up a time for us to inspect your trees and give you a free estimate for tree removal services.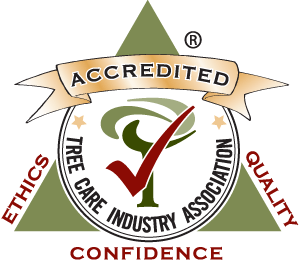 We strongly prefer to save a tree, rather than cut it down. Sometimes all it takes to make a tree safer and better-looking is some carefully-placed cables or structural pruning. However, there are times when tree removal is necessary, such as:
Removing a tree can be a delicate process. Trees are rarely out in the open and removing them carelessly can cause damage to other trees, homes, and nearby structures.
You need an arborist that understands not only the value you place on your home and your landscape, but also has the best interests of your trees in mind. Independent Tree takes that responsibility very seriously.
We offer:
Tree removal for hazards

When a tree is dead or dying, it can pose a threat to your home, guests, and landscaping. Instead of waiting for the tree to come down, Independent Tree's professional tree care staff will assess the situation and carefully remove the tree without damage to your yard.

Tree removal for growth

Sometimes trees grow so close together that none of them are thriving. In that case, our certified arborists can assess your lot to determine which trees should be removed to encourage the growth of the other species in the area. Our experience will help your yard to experience new growth.

Tree removal to protect you

Many homeowners think that removing a tree is a simple process. In fact, it can be quite dangerous. Don't take a chance. Let our certified tree care specialists use their experience to remove the tree without injury to you or your family.
If you have a dead or dying tree in your yard or if you feel that you have so many trees that none of them are thriving, call Independent Tree today. Our certified staff or arborists will be happy to visit your site and provide a complimentary assessment with recommendations.  Call us today at 440-332-0586!
After the tree is removed, you may want to consider grinding the tree stump to remove that as well. We offer optional tree stump grinding services to all our tree removal customers.
Safety Always Comes First
Tree removal is dangerous work that should only be done by experienced professionals. Our ISA Certified Arborists are specially trained to evaluate trees and their surrounding environment to determine the safest and most efficient way to take down a tree. We also have a TCIA Certified Tree Care Safety Professional (CTSP) and ISA Tree Risk Assessment Qualified (TRAQ) arborist on staff to make sure all tree removal jobs are done safely.
When removal is necessary, we are well equipped to take care of any size and situation. No tree is too large or too difficult for our skilled and experienced crew!
Before deciding on the best tree removal method for your tree, we first consider several factors. Things we look at include:
Where is the tree located? Is it close to a building or other structure that might get in the way or that could be damaged during the removal process?

How easily can the tree be accessed with our heavy equipment? Is there landscaping that will obstruct access or need to be repaired afterward? How about irrigation lines, sprinkler heads, underground oil tanks, and septic tanks or fields?

Is the tree structurally stable? Can it be safely climbed, or will the job require a crane or bucket truck?

Is there enough space to drop the branches? How about enough space to simply fell the tree?

What species of tree is it? For example, dead ash trees (such as ones killed by Emerald Ash Borer) are more dangerous than many others because they become extremely brittle and prone to unexpected failure.

Are there any power lines, cables, or other objects in the tree canopy? These will need to be removed (or, in the case of power lines, the power must be turned off).
After a careful inspection of your tree(s), our experienced arborists determine the best way to take it down. We typically use a variety of heavy equipment, such as a crane and bucket truck, as well as climbing the tree to selectively remove parts that could otherwise pose a danger to the ground crew.
4 ways to remove a tree - See Us In Action!
We're happy to take a look at your trees to determine whether removal is necessary, or if a pruning program could help your trees instead.
Let's face it - tree stumps are unsightly and they get in the way. Stumps from rotten or fallen trees don't add to the aesthetic appeal of your yard. And, if a tree has been removed, the remaining stump doesn't look much better (that's why we offer stump grinding as part of our tree removal services).
Besides the aesthetic reasons for removing tree stumps, there are health and safety considerations that make stump grinding an excellent choice for most people.
Stump Grinding Options
We offer a few options when grinding tree stumps, ranging from simply grinding the stump away to complete removal, filling, and replacement.
NOTE: Stump grinding is done by a different crew and is therefore done several days after the tree has been removed.
Stump Grinding Only
This option involves grinding the tree stump down to about 4-6 inches below ground level. We leave the wood chips where they are. You're left with a hole that you can fill with any material you like, including topsoil, wood chips, gravel, etc. and you're responsible for any clean-up.
Stump Grinding & Backfill
After grinding the stump, we fill the hole with screened topsoil and then reseed the area with high quality grass seed. We can also cover the area with mulch instead of grass seed if you prefer. We remove all the wood chips and debris so the area is completely cleaned up when we leave. In a couple of months, you won't even know the stump was there!
We can also plant a new tree where the stump was and are happy to help you choose a tree that's suitable to the area. You can learn more about our Tree Planting services here >>
How Does Stump Grinding Work?
A stump grinder is a piece of heavy equipment with a carbide-tipped steel wheel on the front that spins like a saw blade. The wheel is lowered onto the edge of the stump and moves from side to side, grinding deeper into the stump with each swipe. Eventually, the whole tree stump is ground up into small wood chips, including the main roots below the stump.
Why use Independent Tree for Stump Grinding?
Our stump grinding process removes the remains of the tree down at least one foot, allowing you to immediately replant grass or other plants directly over top of the site. No long waiting periods!
Independent Tree offers certified arborists and tree care specialists who can assess the situation, let you know why the tree failed, and help you plot the best course of action.
All of our stump grinding equipment is fitted with chip guards to protect your home, landscaping, and windows from debris.
Letting Independent Tree remove a tree stump can prevent vermin from taking up residence in the hollowed out areas, protecting your home from unwanted infestation.
We offer affordable rates and convenient scheduling.
Don't let unsightly stumps ruin your landscape!
We're happy to take a look at your tree stumps to determine the best way to remove them based on your goals for the space.